Customized Enamel Frits Tests for Steel Stove Gril
Succeeded for Southeast Asian Customer
Last month, a Southeast Asian customer contacted us. The customer is a local enamel stove grill manufacturer with strong strength. They are looking for suitable enamel frits for their two steel plate hob products. There are high requirements for quality and product effect, and because the firing temperature of the steel plate furnace frame is 820 ℃ and 830 ℃ respectively, there are also certain requirements for the enamel firing temperature of the enamel frit. Before consulting a number of enamel frit suppliers unsuccessfully, and finally found us.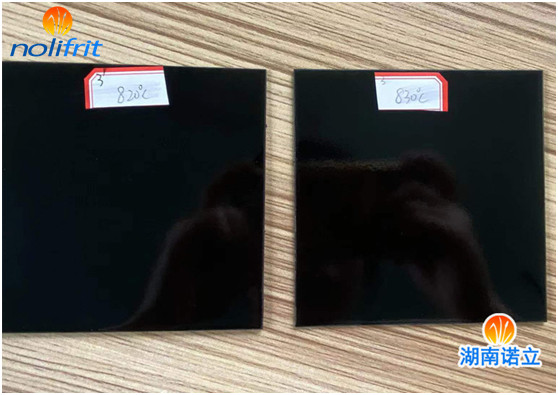 After understanding the product information, production conditions and relevant requirements of the other party, Nolifrit technical team tailor-made a suitable enamel frit formula for its steel plate hob according to customer needs, and conducted a proofing test in the R&D center. The technicians used a black enamel frit and a cobalt-nickel ground coat, and added other grinding additives according to the formula for ball milling to obtain an enamel slurry, which was coated on different samples. Sample 1 was fired at 820°C, and sample 2 was fired at 830°C. After firing and cooling, it was observed that the porcelain surfaces of the two samples were smooth and delicate, free of scales and other defects.
We feedback the proofing results to our customers, who expressed their satisfaction and looked forward to further cooperation with us. Nolifrit has been engaged in enamel frit and inorganic pigments for 26 years, and has reached friendly and cooperative relations with many companies around the world through high-quality products and meticulous services. If you have any related needs, please contact us!